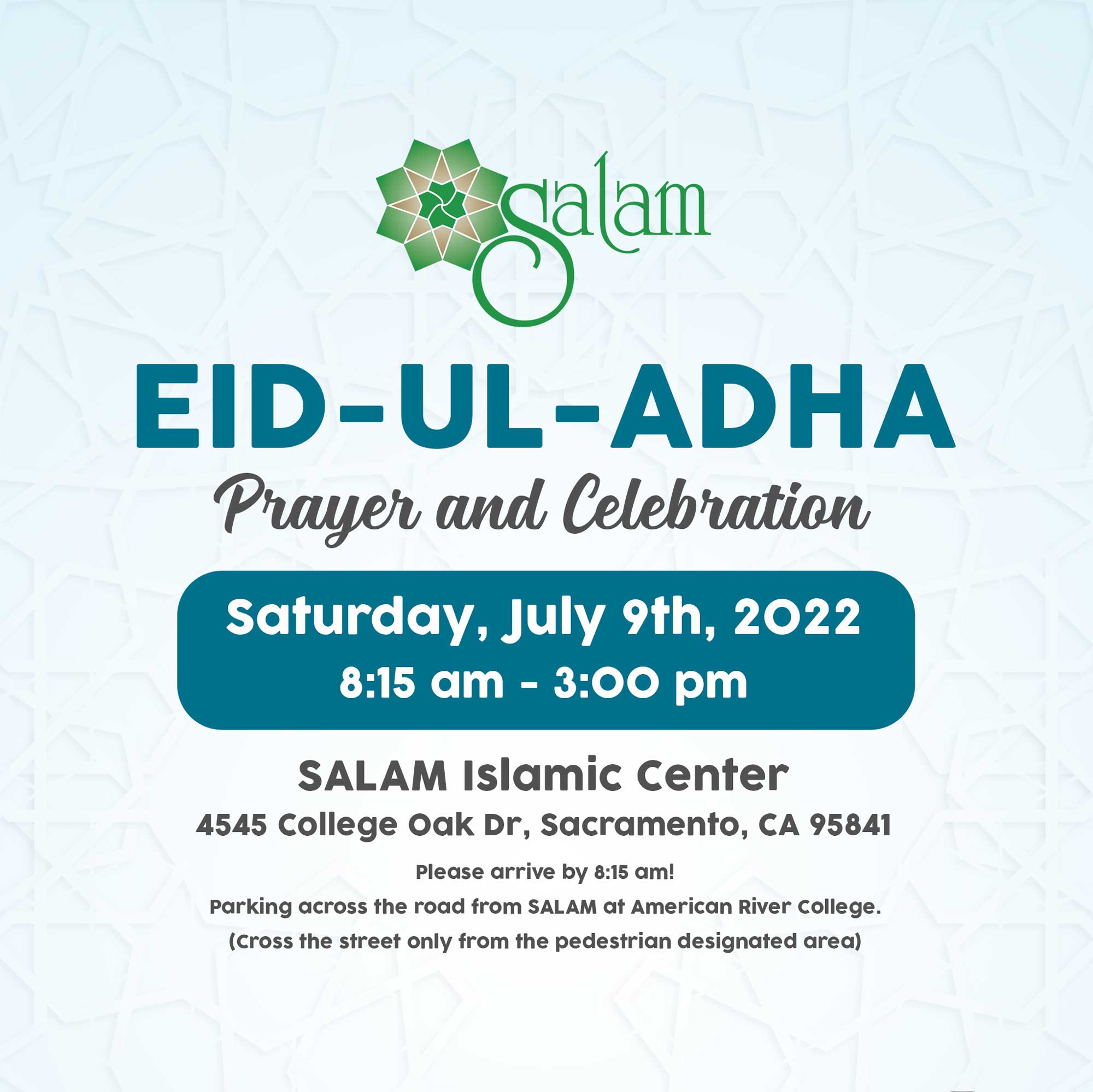 Eid-ul-Adha 2022
Eid-ul-Adha is on Saturday, July 9th.
Takbeerat starts at 8:15 am.
Eid prayer is at 9 am.
Eid Celebration starts at 11 am and includes,
Giant Slides & Bounce Houses
Sports Activities
Face Painting & Henna Artist
Clowns & Balloon Art
Gift bags for Children
Cotton Candy & Ice Cream
Free Coffee, Tea, and Donuts
Lunch Available for Purchase
Food Truck
And Much More!!
SALAM Islamic Center, 4545 College Oak Dr, Sacramento, CA 95841.
Please arrive by 8:15 am! Parking across the road from SALAM at American River College (Cross the street only from the pedestrian designated area).
COVID Update
In the past few weeks, the spread of COVID-19 has increased. There has also been a spike in the Muslim community.
The CDC has classified Sacramento and all of its surrounding counties as a High-risk areas for exposure. They recommend masks be worn indoors. If you would like to read more about county-level COVID data follow this link: CDC COVID Data Tracker: County View
Imam Mohamed Alzahed will lead the Eid Khutbah. Please pray for the speedy recovery of the Kamel family.
Eid-ul-Adha Precautions
Masks will be required for all indoor activities and the Eid prayer
Please bring your own prayer rug
Hand sanitizer will be available and masks will be distributed upon entry into the SALAM parking lot.
Indoor occupancy will be reduced. 6 feet distancing is NOT expected. If you prefer to pray outside please do so.
Outdoor prayer areas will be extended.
Brothers, you may be praying outside in the sun. Please come prepared. Bring a prayer mat, plenty of water, and sabr (patience)
Activities (11 am – 3 pm)
Masks are recommended but not required while outside.
Please wear your mask while inside.
Eid Volunteers
We are looking for volunteers to assist with crowd management, food, and activities on Saturday, July 9th [Eid Day].
If you would like to help on the day of Eid, please sign up here.
Hourly Schedule
Eid-ul-Adha 2022
8:15 am

Takbeerat
9:00 am

Prayer & Khutba
11:00 am

Eid Celebration