Loving the Prophet ﷺ: The Why and How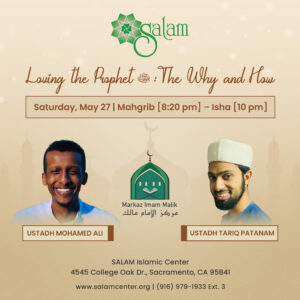 Join us on Saturday, May 27th, for an enlightening session on "Loving the Prophet ﷺ: The Why and How" followed by dhikr. The event will take place between Mahgrib (8:20 pm) and Isha (10:00 pm) and will be led by Ustadh Mohamed Ali and Ustadh Tariq Patanam, representing the Markaz Imam Malik.
Ustadh Mohamed Ali
A dedicated student at Markaz Imam Malik and a 4th-year Ph.D. candidate at Georgetown University in the Arabic & Islamic Studies Program. Since 2008, he has been deeply immersed in the study of Arabic and Islam, and has been sharing his knowledge with undergraduate and graduate students over the past three years. His traditional studies began in 2014 when he moved to Maryland, covering a wide range of Islamic sciences. Since 2020, Mohamed has studied several texts with Shaykh Zohayr Qazzān and recently spent the summer with the Shaykh and fellow students in Cairo.
Ustadh Tariq Patanam
He embarked on his journey of Islamic studies by memorizing the Qur'an before high school. His studies have since expanded to include fiqh, aqeedah, tasawwuf, and usul, under the guidance of Shaykh Rami Nsour in California, in the mahdarah of Murabit al-Hājj in Mauritania, and more recently at the Markaz Imam Malik with Shaykh Zohayr Qazzān in Egypt and Online. In addition to his religious studies, Tariq holds a B.S. in computer science and a minor in philosophy from Stanford University, and is currently working on his startup when not engaged in his studies.
This session aims to deepen our understanding and love for the Prophet ﷺ, exploring the reasons why we should love him and how we can express this love in our daily lives. Following the discussion, we will engage in dhikr, a beautiful practice of remembrance and reflection.
We look forward to seeing you there for an evening of learning, reflection, and spiritual growth.