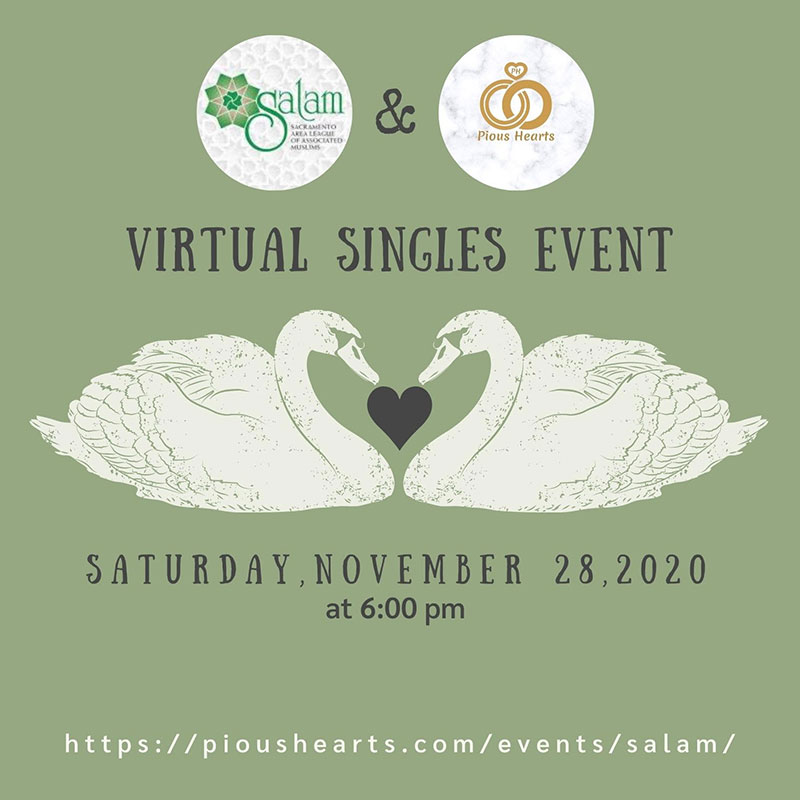 Virtual Singles Event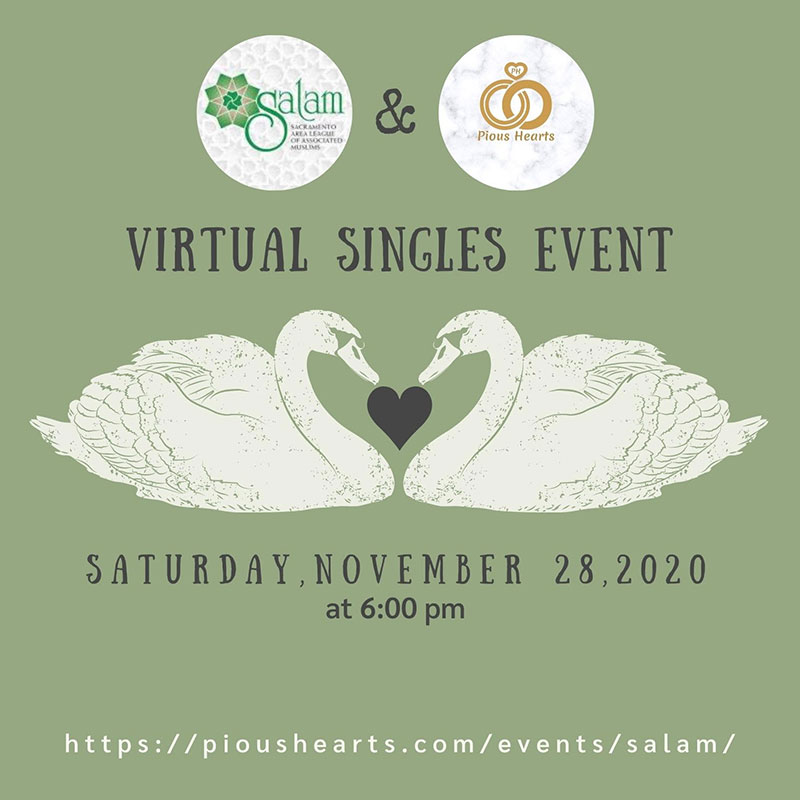 Salam Islamic Center & Pious Hearts Singles Social Events is now Virtual!! Get ready to make real connections on a face-to-face virtual platform! Unlike those online dating apps where no one replies to you, there are no fake profiles here. Just real people! So, pour yourself a cup of coffee or tea, get comfy, and meet some amazing people!
Our Virtual events operate in a very similar way to our traditional singles events but now they are conducted via the web using any smart device and from the comfort of your own home.  Everything is organized for you with our hosts there to facilitate so all you need to do is simply have the conversations! Coupled with the fact that no additional sign-in is required, a simple link will give you instant access to the virtual event!
Open to all Single Muslims living in the US and Canada from all ethnic groups. The virtual event will start at 6:00 pm Eastern Time and go on for around two hours. This virtual event is for anyone 18 years old and older.
Register Here
To attend our Salaam Mosque & Pious Hearts Virtual Singles Event, you must complete the registration form by answering some questions about who you are and what you are looking for. Our team will review all registered singles and choose only the most suitable singles to attend the virtual event. Only when our team picks you to be a guest at our virtual event will your credit/debit card on file automatically be charged. You will not be charged anything if you are not picked; don't worry. We will have plenty of other virtual events that you may be invited to attend. This pre-event filtering process benefits our guests so we can have more compatible singles who share the same interest as you and have a good balance of men and women at our virtual events to give everyone a fair chance to interact and, InshaAllah, find a match.
Complete virtual event details will be sent out only to our picked and charged registered participants.
***Registration must be made only in the name of the single candidate attending the virtual event. Candidates must attend the virtual event and no one else on their behalf. All ticket sales are final, and the tickets are non-refundable and non-transferable.
*** For the virtual event, you will need a good Wi-Fi connection, a fully working microphone, and a webcam on your device (smartphone, computer, tablet, etc…)
Schedule
Join us Saturday, November 28, 2020, for an amazing evening with games and meaningful connections. This will be informal, fun, and relaxed. Great outcomes happen to those truly looking for that special someone.
Age Group: 18 and older
Date: Sunday, November 28, 2020
Time: 6:00 pm EST (around 2 hours)
Location: Virtual
Ticket: $20
Register Here